Regular price
$63.00 USD
Sale price
$50.00 USD
Unit price
per
Sale
Sold out
RODUCT INFORMATION
Brand Name: DrApac
Product Specifications: 60 Capsules / bottle
Main Ingredients: Adhatoda (Adhatoda vasica) extract, albizia (Albizia lebbeck) extract, Baikal skullcap (Scutellaria baicalensis) extract, boswellia (Boswellia serrata) extract, bromelain, chamomile (Matricaria recutita) extract, echinacea (Echinacea purpurea) extract, elecampane root (Inula helenium) extract, ginger root (Zingiber officinale) extract, hesperidin, magnesium amino acid chelate, marshmallow root (Althea officinalis) extract, passionflower (Passiflora incarnata) extract, quercetin, selenomethionine, thyme (Thymus vulgaris) extract, Vitamin C (ascorbic acid), Vitamin E (Covitol 1210). No diary products, egg, artificial preservatives, artificial colours, artificial flavours, artificial sweeteners added.
Drapac Super Breathe Clear Capsules provide a premium source of top-grade of natural ingredients with super bioactivity helping for healthy respiratory and pulmonary function.
Adhatoda vasica has several health benefits including treating asthma, cough and cold, promoting digestion, managing high blood pressure, boosting the immune system and providing relief from sore throat and sinusitis.
Albizzia lebbeck is used for the prevention of bronchitis, lung ailments, abdominal tumors, and cough among other related ailments.
Scutellaria baicalensis is a flowering plant used in traditional medicine. Its use may provide health benefits, such as reduced inflammation, improved mood, and may also have anti-cancer effects.
Studies show that Boswellia serrata may reduce inflammation and may be useful in treating osteoarthritis, rheumatoid arthritis, asthma, and inflammatory bowel disease.

Studies suggest that bromelain may have significant, positive effects on multiple health conditions, including osteoarthritis, burns, and cancer.
Matricaria recutita is taken to help intestinal gas, stuffy nose, hay fever, diarrhea, ADHD, fibromyalgia, anxiety, restlessness, and insomnia. It is also taken by mouth for stomach and intestinal spasms, stomach and intestinal inflammation, stomach ulcers, colic, indigestion, and menstrual cramps.

Echinacea purpurea has been shown to improve anxiety, immunity, blood sugar levels, inflammation and skin health. It may even have anti-cancer properties.
Inula helenium is an herbal supplement. Research suggests that its extracts have potent antioxidant, anti-inflammatory, and even potential anti-cancer properties. It also contains compounds that may suppress coughing and benefit respiratory health overall.
Zingiber officinale has been used to improve muscular aches, pains, sprains, arthritis, rheumatism, cramps, sore throat, vomiting, constipation, indigestion, hypertension, dementia, fever and infectious diseases.
Hesperidin is known for its benefits for Type II diabetes, cardiovascular function, and anti-inflammation. Recent studies have demonstrated additional benefits for cutaneous functions including wound healing, UV protection, antimicrobial, anti-inflammation, anti-skin cancer, and skin lightening.
Magnesium amino acid chelate is used as a supplement to maintain adequate levels of magnesium in the body.
Althea officinalis is can be used to form a protective layer on the lining of the digestive tract. It may also decrease cough and fight infections.
Passiflora incarnata is used for anxiety and sleep problems. It is also used for heart rhythm problems, pain, menopausal symptoms, and ADHD.
Quercetin has been linked to improved exercise performance as well as reduced inflammation, blood pressure, and blood sugar levels. Additionally, it may have brain-protective, anti-allergy, and anti-cancer properties.
Selenomethionine is a mineral essential for the proper functioning of the body. It plays a critical role in thyroid function and metabolism, and it helps protect the body from damage caused by oxidative stress. Selenomethionine may also help boost immunity, slow age-related mental decline, and even reduce the risk of heart disease.
Thymus vulgaris is known to have antimicrobial, anti-inflammatory, and antioxidant effects. It may be useful in treating ailments from intestinal infections to skin conditions.
Ascorbic acid is necessary for the growth, development and repair of all body tissues. It is involved in many body functions, including the absorption of iron, proper functioning of the immune system, the formation of collagen, wound healing, and the maintenance of bones, cartilage and teeth.
Covitol 1210 is a nutrient that's important to the health of one's blood, brain, skin, vision, and reproductive abilities. It also known to have antioxidant properties.
Drapac Super Breathe Clear Capsules are a very well selected combination of adhatoda extract, albizia extract, Baikal skullcap extract, boswellia extract, bromelain, chamomile extract, echinacea extract, elecampane root extract, ginger root extract, hesperidin, magnesium amino acid chelate, marshmallow root extract, passionflower extract, quercetin, selenomethionine, thyme extract, Vitamin C, and Vitamin E designed to maximize the health benefits of each individual bioactive.
Drapac only selects top quality ingredients guaranteeing the quality of this product. 
Best Before: The best before date is printed on each individual bottle. Use within three months after opening the bottle.
Directions: For normal day-to-day care, take 1 capsule daily after meals or as directed by your doctor. Up to 3 capsules may be taken at a time, up to three times per day to achieve better effectiveness. For children under the age of 3 years old, the capsule can be opened and the powder inside can be mixed with milk or warm water.
Storage: Store in a cool and dry place away from direct sunlight.
Caution: The capsules cannot be used as a substitute for drugs, and should be used with caution for those who are allergic to certain foods or animals and plants, for pregnant women or those who are preparing to become pregnant, and those who are breastfeeding. Do not use if cap seal is broken. 
Find Where To Buy

DrApac

360 C Dominion Road, Mt Eden, Auckland 1023

Phone: (+64) 09 638 7128
Mobile: (+64) 0275 667888
Email: contact@drapac.com

Get in touch
Share
View full details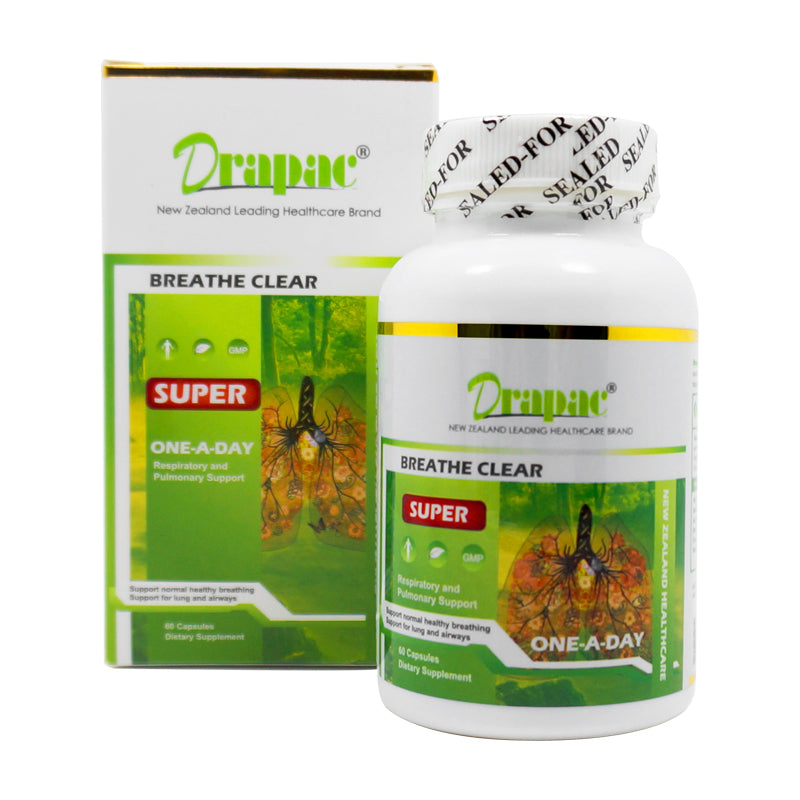 RETURN AND REFUND POLICY

If you are not 100% satisfied with your purchase, you can E-mail us to return the product and get full refund or exchange the product for another one, be it similar or not. You can return a product for up to 30 days from the date you purchased it. However, you cannot return a product that already been opened or damaged by you.