Regular price
$182.00 USD
Regular price
$243.00 USD
Sale price
$182.00 USD
Unit price
per
Sale
Sold out
PRODUCT INFORMATION
Brand Name: DrApac
Product Specifications: 100 Capsules / bottle
Main Ingredients: Ganoderma lucidum extract (240 mg), Cuscuta Seed Extract (75mg), Cordyceps extract (420 mg, equivalent to fresh), ginseng extract (20 mg, equivalent to fresh), polysaccharides (117 milligrams)G). No artificial additives, gluten, dairy, salt, starch, yeast, or sugar added.
Best Before: The best before date is printed on each individual bottle. Use within three months after opening the bottle.
Directions: Take 1~3 capsules daily after a meal or follow the doctor's advice. For children under the age of 3 years old, the capsule can be opened and the powder inside can be mixed with milk or warm water.
It has been scientifically demonstrated or well known the health benefits that Cordyceps extract: 1. Promote the circulatory system, 2. Promote the respiratory system, 3. Promote the immune system, 4. Promote the digestive system.
Water soluble polysaccharides: antiviral and anticancer. The antiviral mechanism of most scattered polysaccharides is to inhibit the adsorption of viruses to cells. The macromolecules of polysaccharides bind together mechanically or chemically, covering the binding sites of the virus and cells, thereby competitively Blocked the virus to infect cells. Polysaccharides can not only inhibit the pathogenic effect of the virus, but also inhibit the spread of the virus. A large number of water-soluble substances with anti-cancer active ingredients can inhibit tumor metastasis, and the safety is better than traditional surgical treatment and chemotherapy.
Drapac DrKiwi-Antican are very well established product containing above active ingredients. Drapac only selects top quality ingredients guaranteeing the quality of this product. 
Suggested For: support food supplements for immune modulations, lung damages recovery, anti-pathogens,  post-surgeons, post hospitalized patients, and cancer patients.

Storage: Store in a cool and dry place away from direct sunlight.
Caution: Drapac DrKiwi-Antian capsules cannot be used as a substitute for drugs, and should be used with caution for those who are allergic to certain foods or animals and plants. Do not use if cap seal is broken.
Find Where To Buy

DrApac

360 C Dominion Road, Mt Eden, Auckland 1023

Phone: (+64) 09 638 7128
Mobile: (+64) 0275 667888
Email: contact@drapac.com

Get in touch
Share
View full details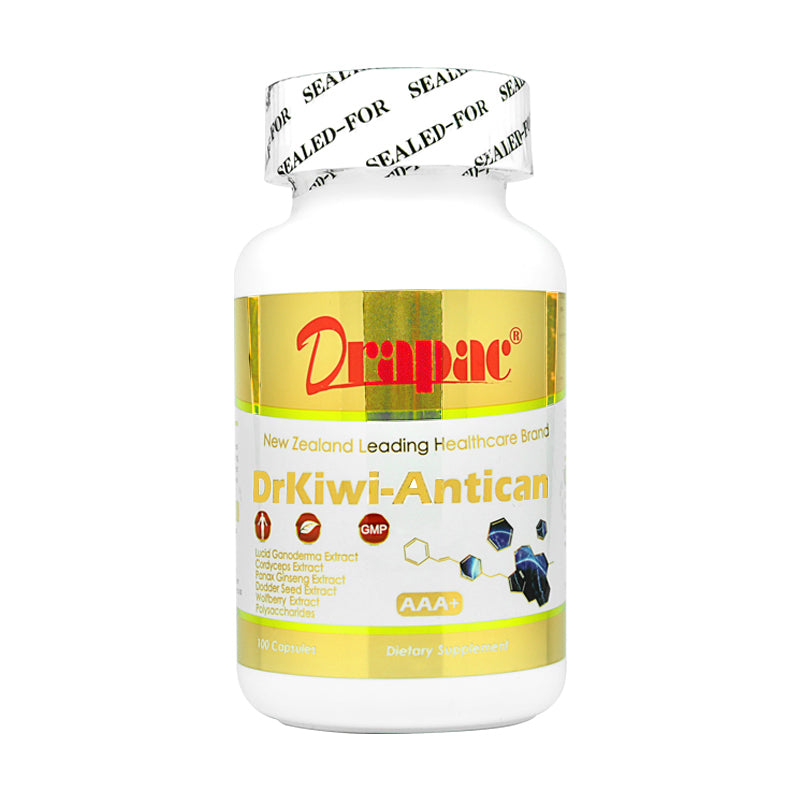 RETURN AND REFUND POLICY

If you are not 100% satisfied with your purchase, you can E-mail us to return the product and get full refund or exchange the product for another one, be it similar or not. You can return a product for up to 30 days from the date you purchased it. However, you cannot return a product that already been opened or damaged by you.