Regular price
$56.00 USD
Sale price
$33.00 USD
Unit price
per
Sale
Sold out
PRODUCT INFORMATION
Brand Name: DrApac
Product Specifications: 500 Tablets / bottle
Main Ingredients:  Each tablet (600 mg) contains goat milk powder rich in carbohydrates, minerals, immunoglobulins, proteins, calcium, growth and nutritional factors.  No artificial preservatives, artificial colours, artificial sweeteners, gluten, lupin, yeast added.  
Drapac goat milk tablets are convenient and nutritious. These chewable tablets are pleasant to taste.  Research suggests that goat's milk may enhance the body's ability to absorb important nutrients from other foods. In contrast, cow's milk is known to interfere with the absorption of key minerals like iron and copper when consumed in the same meal. Another reason some people choose goat's milk over cow's milk has to do with digestibility. All animal-derived milk contains some lactose (natural milk sugar), which some people, as they age, lose the ability to fully digest. Goat's milk is slightly lower in lactose than cow's milk (about 12% less). People with mild lactose intolerance, therefore, may find goat's milk dairy somewhat less disruptive to digestion than cow's milk.
In terms of digestive health, goat's milk has another feature that outperforms cow's milk: the higher presence of "prebiotic" carbohydrates (oligosaccharides), which help nourish the beneficial bacteria living in our gut ecosystem. They're the same type of carbohydrate that's present in human breast milk and are responsible for helping to support the "good" bacteria in a baby's digestive tract.
Goat's milk offers a huge amount of nutrients and, in some cases, slightly higher nutritional value than cow's milk. It's even been found to help us absorb certain nutrients — something cow's milk doesn't do.  These make goat's milk simply one more delicious and healthy option to you.
Drapac selects only top quality ingredients, guaranteeing this product.  
Best Before: The best before date is printed on each individual bottle. Use within three months after opening the bottle.
Directions: Take 3~6 tablets each time, twice daily. For children (age 3-7 year old): 1-~2 tablets each time, twice daily. For children (age 8 year old or above), 2~3 tablets each time, twice daily. For the age of 3 years old, the tablets can be powdered and the powder can be mixed with milk or warm water. 
Storage: Store in a cool and dry place away from direct sunlight.

Caution: Do not use if bottle cap seal is broken.
Find Where To Buy

DrApac

360 C Dominion Road, Mt Eden, Auckland 1023

Phone: (+64) 09 638 7128
Mobile: (+64) 0275 667888
Email: contact@drapac.com

Get in touch
Share
View full details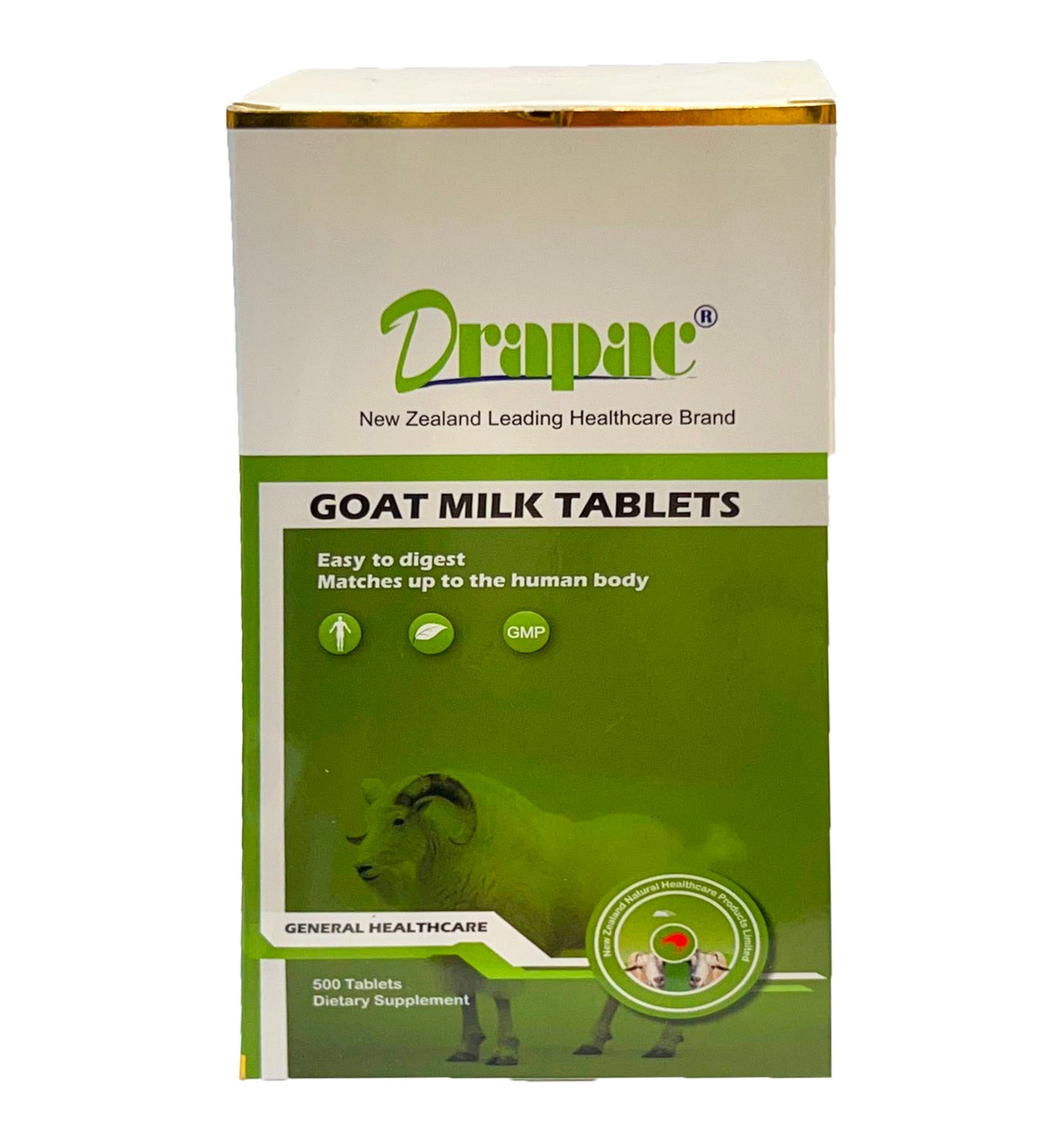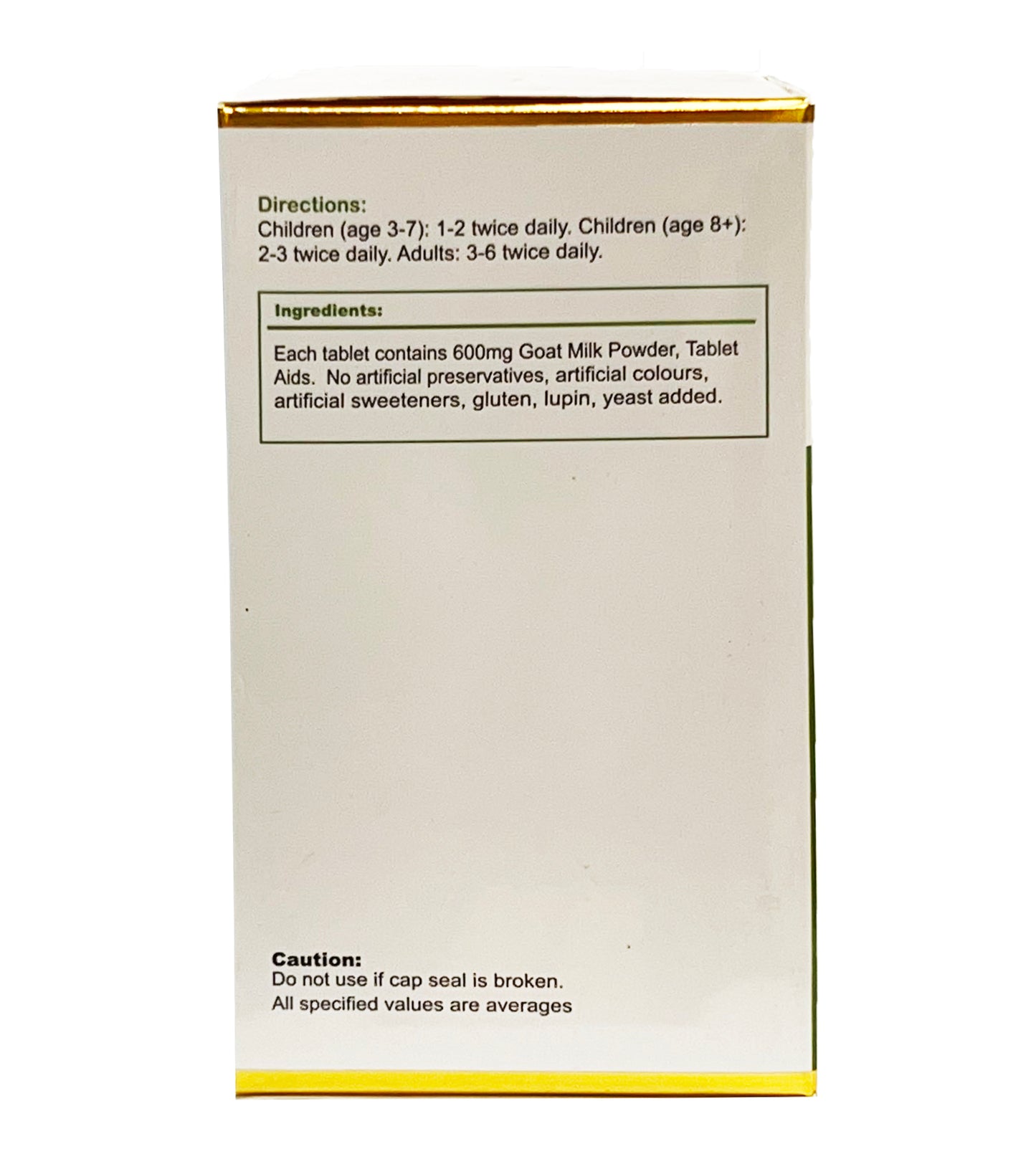 RETURN AND REFUND POLICY

If you are not 100% satisfied with your purchase, you can E-mail us to return the product and get full refund or exchange the product for another one, be it similar or not. You can return a product for up to 30 days from the date you purchased it. However, you cannot return a product that already been opened or damaged by you.