Regular price
$85.00 USD
Sale price
$61.00 USD
Unit price
per
Sale
Sold out
PRODUCT INFORMATION
Brand Name: DrApac
Product Specifications: 100 Tablets / bottle
Main Ingredients: Drapac super joint repair capsule mainly contains glucosamine sulfate potassium chloride (790mg, 5% PVP), chondroitin sulfate (222mg, 90%), methylsulfonylmethane (MSM, 26mg), vitamin C, Dl-alpha-tocopheryl acetate, and microcrystalline cellulose. 
Glucosamine is a chemical compound that occurs naturally in both human and animal tissues. In humans, it helps form cartilage and is commonly used as a dietary supplement to treat joint disorders like osteoarthritis.
Research indicates that glucosamine may reduce inflammation, helps develop tissues that are crucial for proper joint function, protects joints from damage. Glucosamine is used frequently to treat various bone and joint conditions, and to treat a wide variety of chronic inflammatory diseases.
Glucosamine is also widely promoted as a treatment for interstitial cystitis (IC), a condition characterized by chronic inflammation of the bladder muscles and symptoms like frequent urination and bladder pain.
Inflammatory bowel disease (IBD) is a condition that causes chronic inflammation of the intestines, often leading to symptoms like bloating, stomach cramps, and diarrhea. Like IC, it's associated with a deficiency in glycosaminoglycan.
Research also indicated that supplementing with glucosamine could reduce IBD inflammation and significant improvements in symptoms like pain and diarrhea.
Multiple sclerosis (MS) is a chronic condition that affects your central nervous system. Symptoms vary but can include fatigue, tremors, and trouble walking, talking, and seeing. There is indication that glucosamine could be an effective treatment for MS.
Glaucoma is an eye disease that can cause some vision loss and even blindness. Some people believe it can be treated with glucosamine. Research indicates that glucosamine sulfate might promote eye health by reducing inflammation and providing antioxidant effects in your retina — the back of your eye that's responsible for receiving light and sending vision info to your brain.
Glucosamine may be an effective therapy for Temporomandibular joint disorders. These are health issues related to your jaw — like jaw pain and locking of the jaw joint. Study showed a significant improvement in maximum mouth opening and pain reduction — demonstrated by reduced inflammatory markers.
Glucosamine stimulates the synthesis of proteoglycan- a very essential material for cartilage production, anti-inflammatory action, relieving the joints of swelling.

Chondroitin sulfate is a compound in the body that helps form hyaline cartilage, a connective tissue that cushions the joints. Chondroitin sulfate is a popular supplement that people often use to help manage joint pain. Though it's naturally produced in the body, some people choose to take it as a supplement for its potential joint-building properties. Many of these people take it for osteoarthritis (OA).  Chondroitin sulfate is a compound in the body that helps form hyaline cartilage, a connective tissue that cushions the joints. People commonly take it in supplement form to help relieve symptoms of osteoarthritis
MSM is often used by people looking for a natural way to relieve joint pain, reduce inflammation, and boost immunity. MSM is effective in reducing joint pain, stiffness and swelling. In doing so, it can improve your quality of life. MSM may reduce the release of molecules associated with inflammation, such as TNF-ɑ and IL-6, as well as boost levels of the powerful antioxidant glutathione. MSM may help reduce pain, muscle damage and oxidative stress after intense exercise, helping you recover more quickly. MSM supplements have been shown to help reduce pain and stiffness in people with arthritis. They may also help improve physical function. MSM may help reduce allergy-related symptoms — including coughing, shortness of breath, congestion, sneezing and fatigue — by reducing inflammation. MSM may help boost your immune system by reducing inflammation and increasing glutathione levels. MSM may improve skin health by strengthening keratin and reducing inflammation. It could even help reduce symptoms of certain skin conditions, as well. Research has also shown that MSM exhibits cancer-fighting properties.  
Drapac super joint repair capsules are a very well selected combination of glucosamine sulfate potassium chloride, chondroitin sulfate, and methylsulfonylmethane designed to maximize the health benefits of each individual bioactive. 
Drapac only selects top quality ingredients guaranteeing this product. 

Best Before: The best before date is printed on each individual bottle.  Use within three months after opening the bottle.
Directions: Take 1~3 tablets daily after a meal or as directed by your doctor. 
Storage: Store in a cool and dry place away from direct sunlight.
Caution: Do not use if cap seal is broken. People who are pregnant or breastfeeding should not take the product or get advice from a doctor.
Find Where To Buy

DrApac

360 C Dominion Road, Mt Eden, Auckland 1023

Phone: (+64) 09 638 7128
Mobile: (+64) 0275 667888
Email: contact@drapac.com

Get in touch
Share
View full details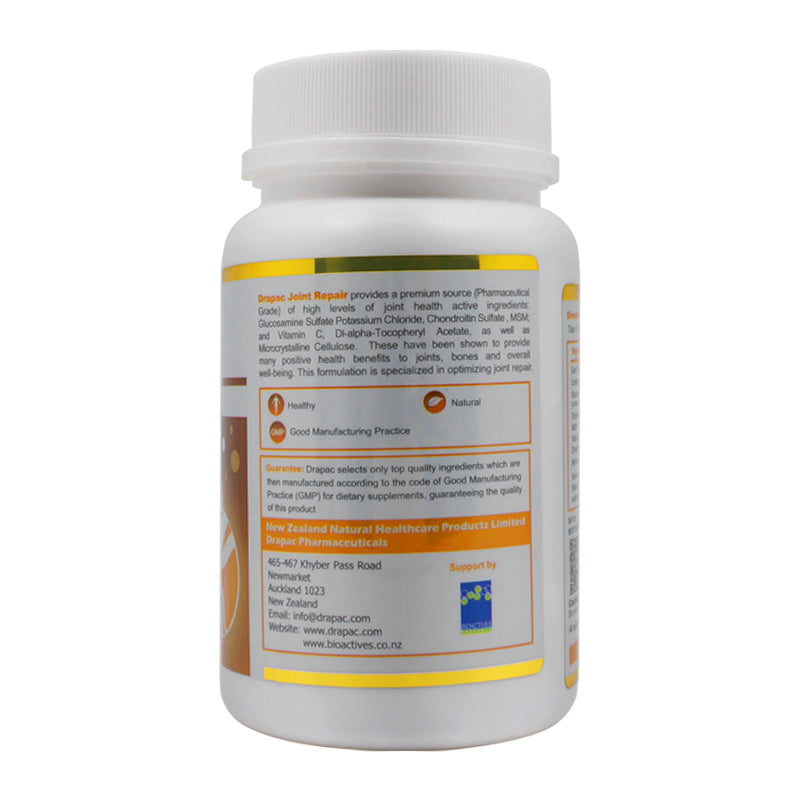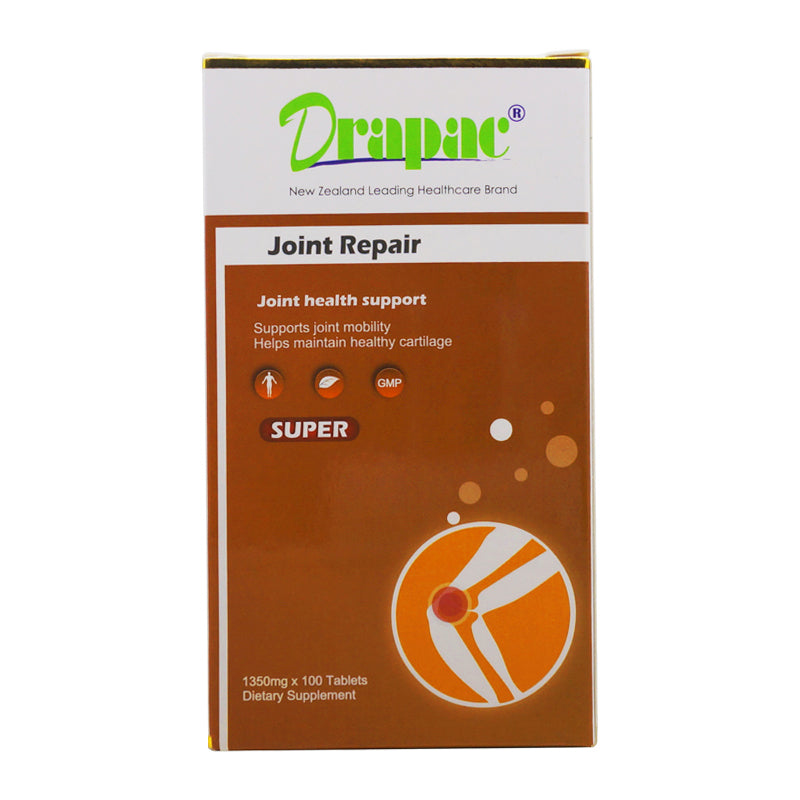 RETURN AND REFUND POLICY

If you are not 100% satisfied with your purchase, you can E-mail us to return the product and get full refund or exchange the product for another one, be it similar or not. You can return a product for up to 30 days from the date you purchased it. However, you cannot return a product that already been opened or damaged by you.