Regular price
$57.00 USD
Sale price
$48.00 USD
Unit price
per
Sale
Sold out
RODUCT INFORMATION

Brand Name: DrApac
Product Specifications: 365 Capsules / bottle
Main Ingredients: Each capsule containing 500 mg premium squalene. No artificial preservatives, gluten, dairy, salt, starch, yeast, or sugar added.
Squalene is a lipid produced naturally by your own skin cells. But the amount of squalene your body produces declines with age. Peak production of this natural moisturizer occurs in the teen years, with production slowing down in your 20s or 30s. As a result, your skin becomes drier and rougher. Squalene isn't only natural in humans. The moisturizer is naturally present in olives, rice bran, and sugarcane. It's also found and harvested from shark livers.
As your body produces less and less squalene, dry skin and dry hair can become a normal occurrence. However, natural skin care ingredients mimicking your body's natural sebum can boost hydration and increase your moisture level. This can result in healthier-looking skin and hair and help improve a variety of skin conditions, ranging from acne to eczema. Boosting hydration can help your skin appear more vibrant and healthier. The antioxidants in these oils and creams also fight skin damage and free radicals, which can both accelerate the aging process.  Regular use can also boost collagen production, resulting in firmer skin. Apply the oil topically as directed on the product package.
Squalene is an important substance for the human body. It can provide a large amount of oxygen to the cells, the cells that restore vitality, enhance the body's ability to heal itself, relieve hypoxic fatigue in the brain, purify the blood, promote circulation, and enhance immunity. It is very beneficial for mental workers, people that physically weak and the patients with cardiovascular diseases.  Drapac Squalene DrKiwiS 365 Capsules provide a premium source of top quality squalene. 
Drapac Squalene DrKiwiS are very well established product containing above active ingredients. Drapac only selects top quality ingredients guaranteeing the quality of this product. 
Best Before: The best before date is printed on each individual bottle. Use within three months after opening the bottle.
Directions: Take 1~3 capsules daily after a meal or follow the doctor's advice.
Storage: Store in a cool and dry place away from direct sunlight.

Caution:  To get advice from you medical practitioners if you are allergic to seafood before use this product. Do not use if cap seal is broken. 
Find Where To Buy

DrApac

360 C Dominion Road, Mt Eden, Auckland 1023

Phone: (+64) 09 638 7128
Mobile: (+64) 0275 667888
Email: contact@drapac.com

Get in touch
Share
View full details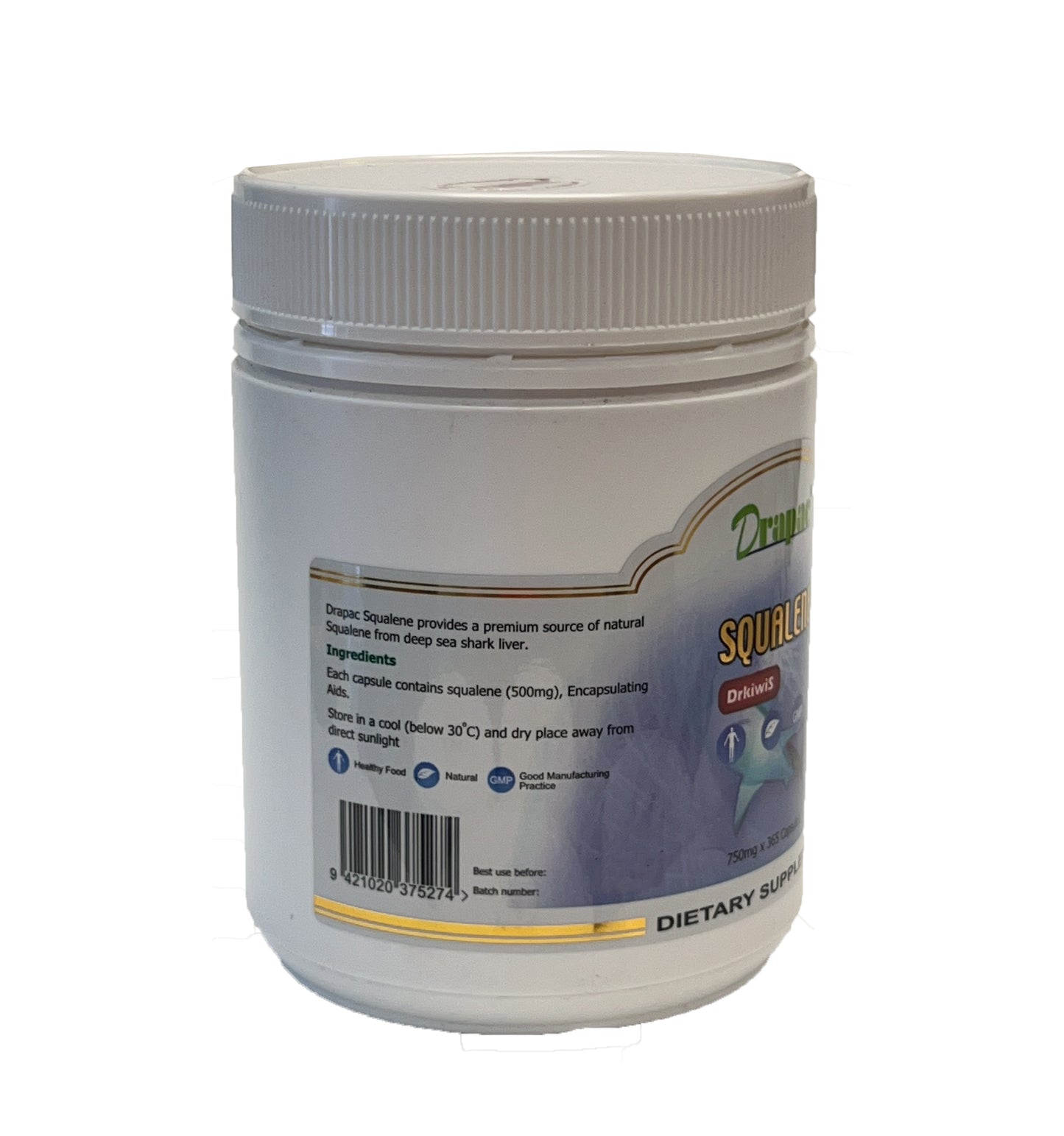 RETURN AND REFUND POLICY

If you are not 100% satisfied with your purchase, you can E-mail us to return the product and get full refund or exchange the product for another one, be it similar or not. You can return a product for up to 30 days from the date you purchased it. However, you cannot return a product that already been opened or damaged by you.